almost felled by the dreaded Curse of the Second Half*: Haseena Maan Jayegi
* term courtesy of
Aspi
Cute, right? You can tell from the get-go.
So cute! Until just before the intermission, that is. And then it's a real let-down.
Just so you know which
Haseena Maan Jayegi
we're discussing, it's the 1968 one with Shashi in a dual role, Babita, and entirely too much Johny Walker (most of which is in isolated scenes and can be skipped easily).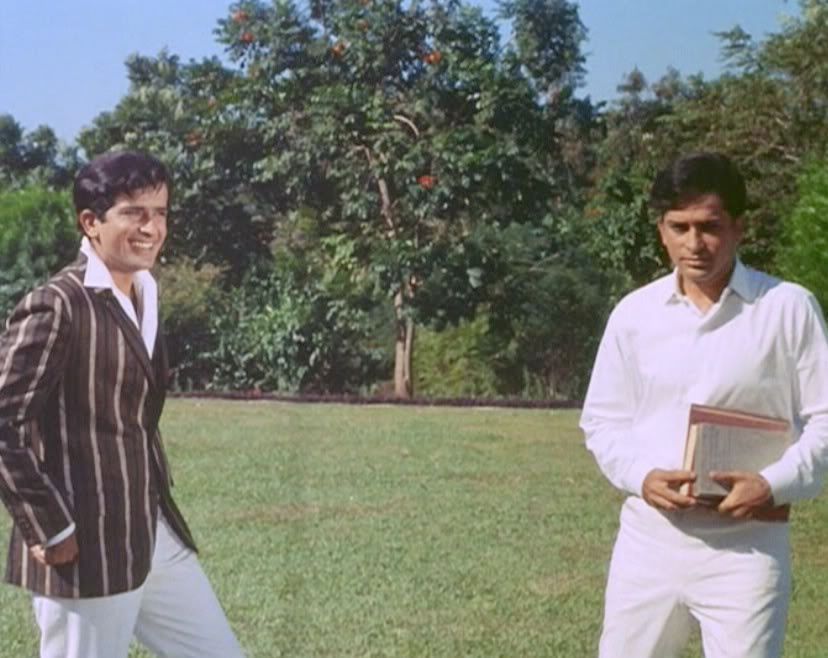 Shashi plays Rakesh (left), the campus Romeo, and Kamal (right), an all-around good boy. It is very, very difficult to tell them apart; Archana (Babita) is harassed by one and attracted to the other, and even she gets them mixed up. She spends a lot of time in the first chunk of the movie making faces like this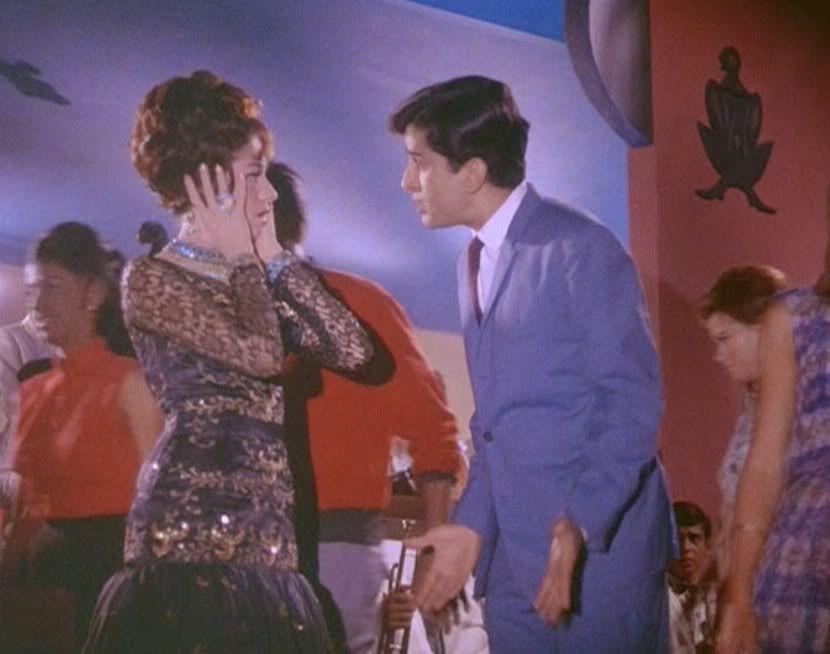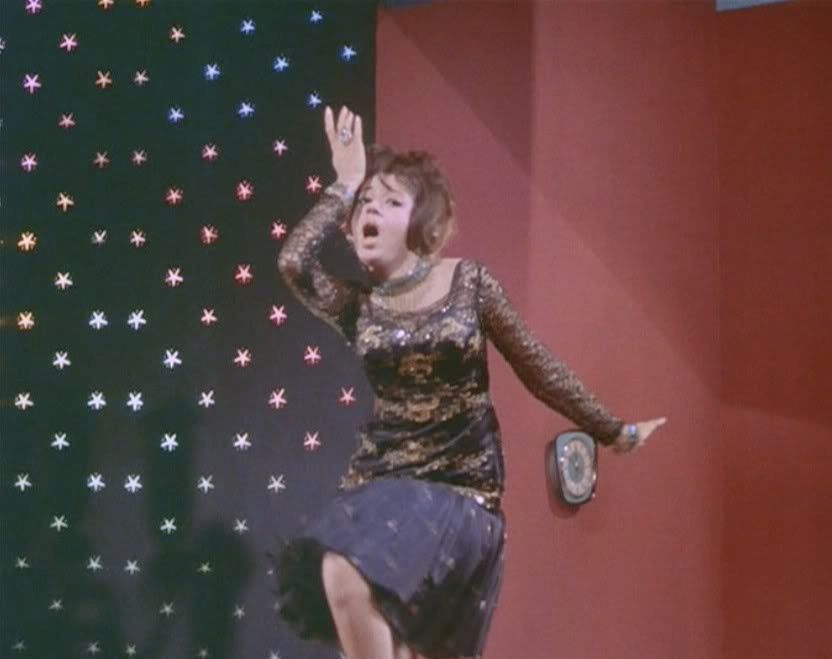 trying to figure out which one is which. Rakesh is a real schemer and tries to impersonate Kamal whenever possible in order to get to Archana, even after she and Kamal get engaged. And that's where things start to tank. Moments before the marriage, we see this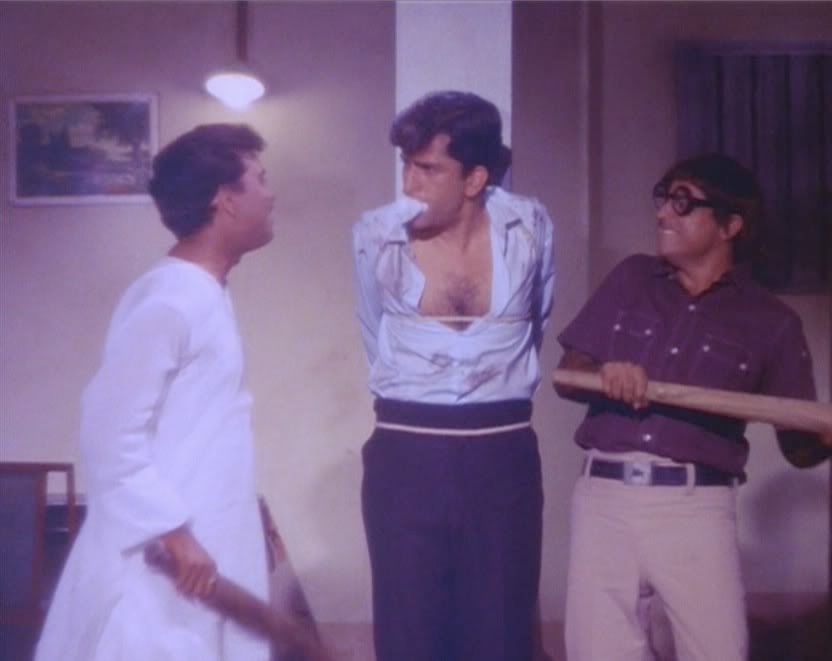 but the movie cuts to intermission before we find out if the person being held is indeed Kamal, meaning that Rakesh is about to rape Archana on her wedding night. Yeah, I know. I los tmy patience right there. Without giving away the remaining arc, just know that identities continue to be mixed up, and
many
easy opportunities to identify whom Archana actually married are bypassed in favor of wild staring, tragic letters, and courtroom antics, all set against the extra-dramatic backdrop of a war with China.**
This may be the most egregious example of the Curse of the Second Half I've seen, not so much because the second half is horribly violent or regressive or boring or anything like that, but because the first part is
so
good and has
so
much going for it that what follows is a colossal disappointment. I knew little about
Haseena Maan Jayegi
before I watched it other than that it had an extra serving of Shashi, and based on the light-hearted, fab fun of the first hour, I figured I was in for some major cuteness along the lines of
Pyaar Kiye Jaa
. But no. Promise was not met. Promise was sent to its room, denied dessert, and forbidden to go out to play with the costumes, set design, and music. It's a real waste. At least the acting doesn't go flying out the window; Babita and Shashi manage to keep things relatively under control. Relatively. There's still some
nahiiiiin
-ing, and to demonstrate that he suffers mental anguish whenever he is reminded of blood, one of the Shashis is occasionally bathed in red light and makes tortured-looking expressions.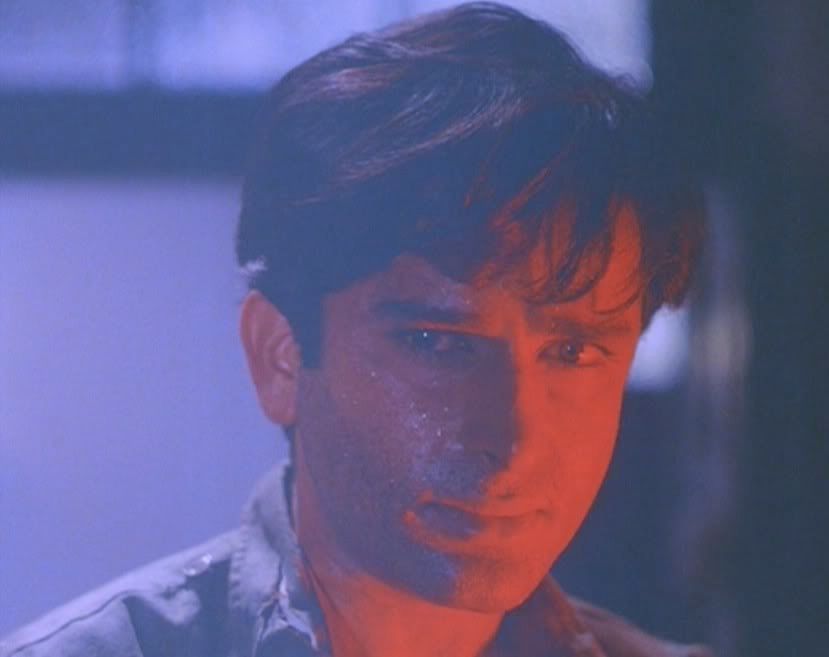 I should also say the plot kept moving along pretty well, even though what happens is stupid and unnecessary; I lost track of who was Rakesh and who was Kamal at one point (which is probably sort of embarrassing to admit, isn't it?) and was not sure how things were going to be tied up. But while
Haseena Maan Jayegi
could have been worse, I'm still not going let it off the hook because it squandered a lot of good potential.
I thought about calling this post "a surfeit of Shashi," but there's really no such thing here at BLB. There is a ton of Shashi in this movie, and there are many varieties on the menu. Shammi-like! In uniform! Thoughtful! Anguished! In leather! On horseback! Studious! Flirtatious! Bare-chested! In wedding finery! Transparent! Under water!
There's something for everyone. The major challenge of a dual role like this one is to create and maintain truly separate characters who behave, respond, and communicate in different ways, and Shashi meets that goal, no problem. He and the writer take their time in showing us which of the characters is going to be our hero, and because Shashi makes each one attractive but not initially perfect, it was fun to look for hints before it became clear how the romance would be paired. He's great in the first three songs (more on that in a minute), and even in the much more serious and trauma-drama-spiked second part, he's histrionics-free.
Babita too is quite good. This is my first movie with her, and I liked her very much. Her feisty and besotted Archana is a treat to watch. The costume designer and makeup artist for Babita, Meena Shivdasani and Belchar Pereira, deserve special mention for creating such a great style (
except for the inexplicable blue Santa Claus suit she wears in one of the love songs
); the visual impact of her character's look and her physical expression of Archana's personality are a major part of the film's appeal.
And Kalyanji Anandji's music! Oh! So! Good!
Better in the first hour, of course, but still fabbity fab.
Look at the album cover!
You can tell! The dancing that accompanies is also superb to my untrained eye. And now we must mention "Suno Suno," in which Shashi plays five different characters, four of which are women. I don't ordinarily find drag particularly amusing; it's the lyrics and Shashi's delivery that make the scene funny.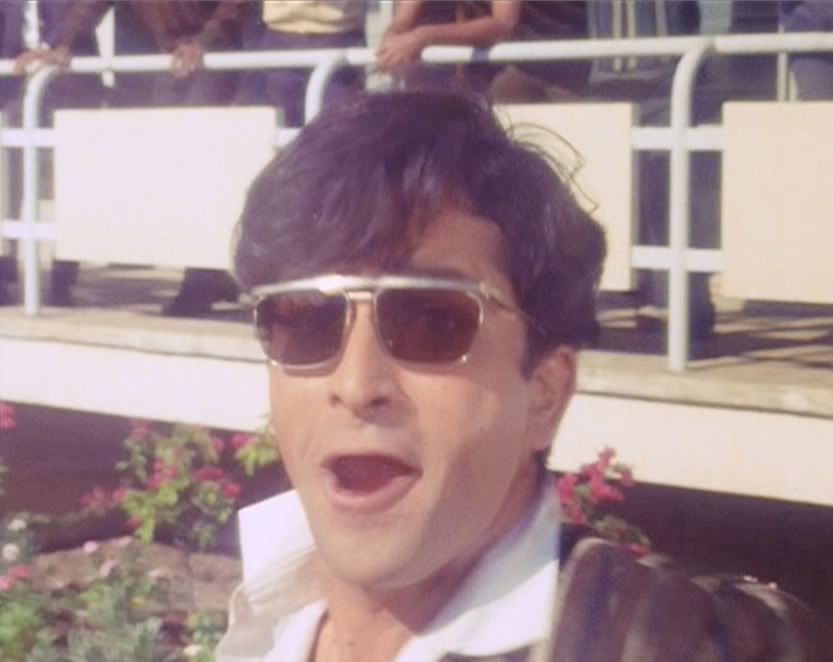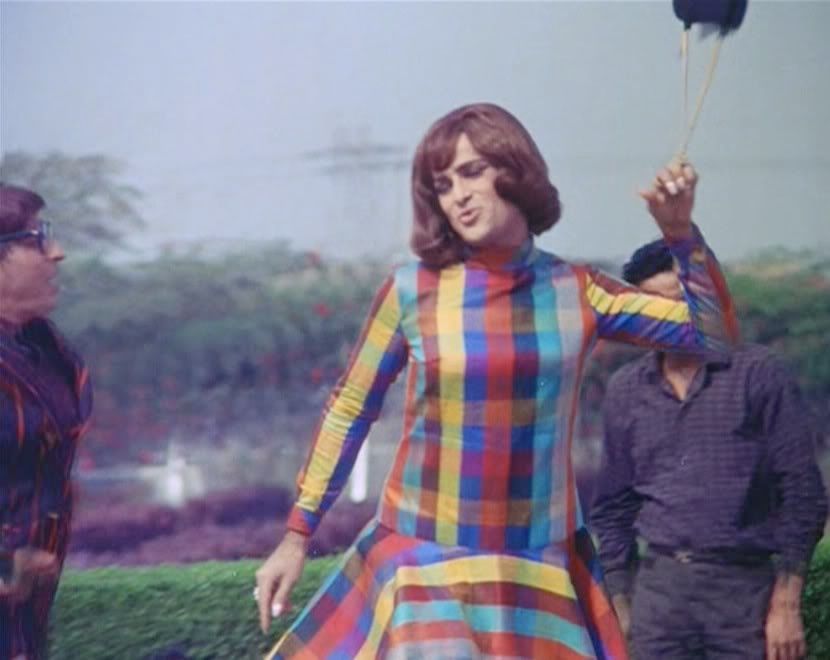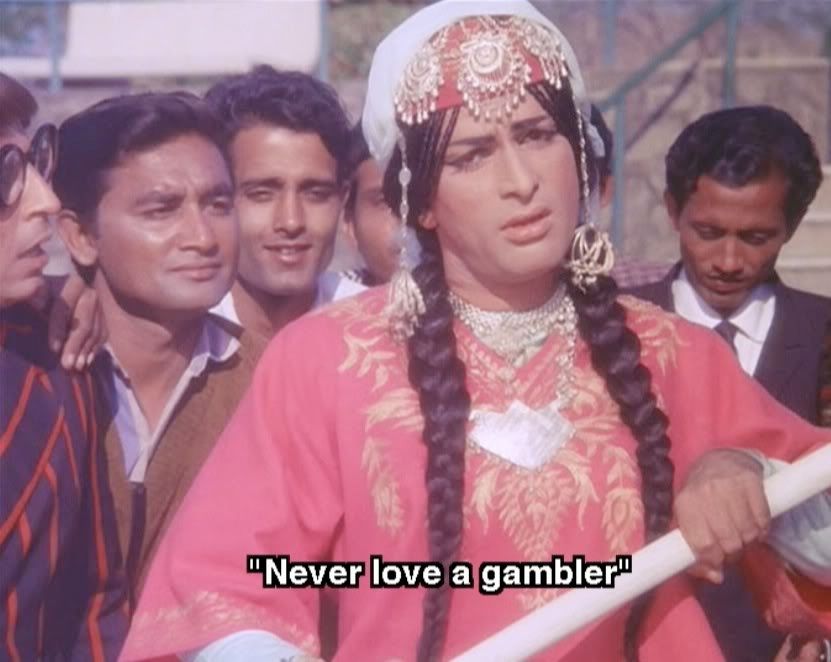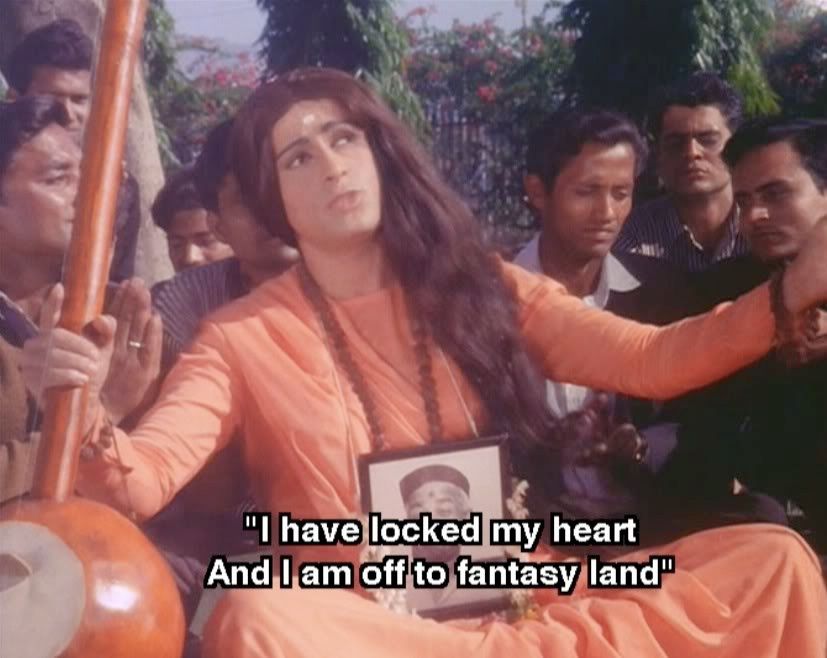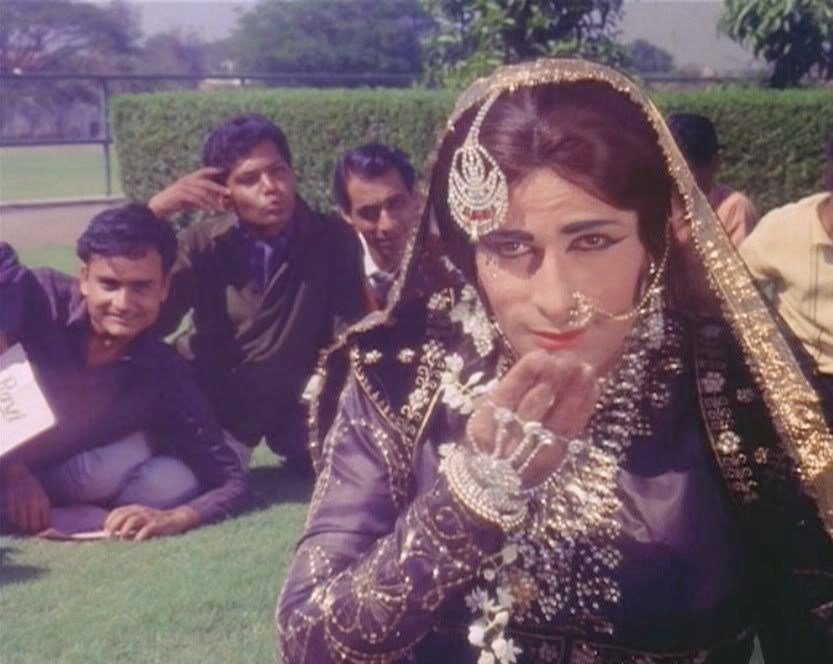 Everyone I show these pictures to has said something along the lines of "He's oddly unattractive as a woman, given how pretty he is as a man." "Dilbar Dilbar Kehte Kehte" is the standout song for me; it's been stuck in my head for a week, and the Shashi vs. self dance-off accopmanied by Babita's confused, cheerful shimmying (see third and fourth pictures from the top) are the stuff that superwow is made of.
My advice: do watch this movie, and do stop it at 1:26:47, and you'll have all the ingredients required to enjoy it thoroughly. Repeat songs and Shashi/Shashi scenes as needed. Perfection.
** I'm not sure if this is supposed to be the 1962 war with China or a fictional conflict - I didn't catch any references to the date.